Rubbermaid Tandem™ Bucket Combo
---
---
Perfect for cleaning behind pedestal sinks, toilets and other hard to reach places. Ultra-soft, ultra absorbent 100% Microfiber Mop Head. Absorbs more than twice as much water as equivalent cotton. Microfiber's unique properties allow it to clean effectively even without chemicals. Mop head is easily removed and is machine washable – reuse again and again. Low effort wringing with ratcheting handle.
Super absorbent microfiber head
Low effort ratcheting wringing
Easy change machine washable refill
DETAILS
One-piece design: integrated bucket and wringer. Holes in both wringing plates force more water from mop in less time. Reverse-wringing mechanism for more comfortable use. Built-in lift handles on bottom of bucket make lifting and emptying easier. Accepts up to 24 oz mops.
Features and Benefits:
One-piece combo includes 31-quart mop bucket and integrated mop wringer
Wringer has holes for greater efficiency
Built-in handles on bucket bottom facilitate emptying
Rolls on 4 non-marking casters
Accepts up to 24 oz. mops.
Made in the U.S.A.
Replacement parts: 1859135 - Srp Caster Kit (4- 2.5 Inch W Stem), FG7380L20000 - Handle Assembly (For more info: visit www.specialmade.com)
WAVEBRAKE® JUST GOT A WHOLE LOT BETTER
WaveBrake® was introduced in 2005 with a patented bucket and baffle design that reduced splashing for more efficient, safer mopping. Rubbermaid Commercial Products continues to innovate, improving the industry-leading splash reduction and adding new features that surpass any other traditional mop bucket. These new features help the New Generation WaveBrake® clean floors with less effort to get the job done safer. Proudly made in Winchester, Virginia, WaveBrake® features structural web-molded plastic construction to ensure the highest quality and durability you have come to expect while delivering industry-leading performance.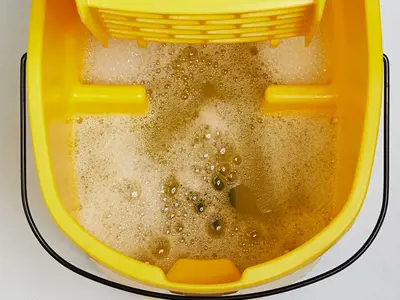 REDUCES SPLASHING UP TO 80%*
Patented WaveBrake® baffles result in less splashing while mopping and maneuvering, helping to create a safer environment for patrons and staff. *versus competitive 35Qt U.S. single compartment mop bucket and wringer, not including divider bucket and accessories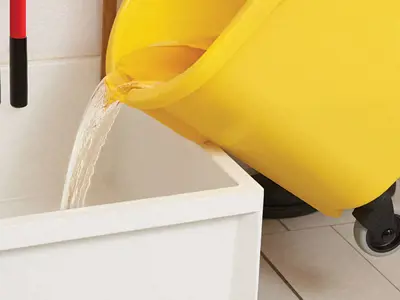 POUR SPOUT
A molded-in pour spout and sink ledge help direct water while emptying the mop bucket.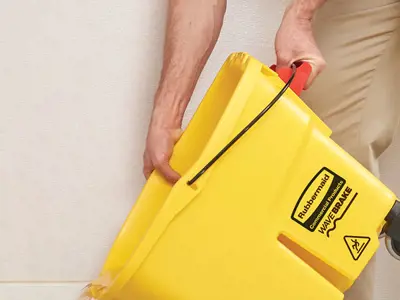 INTEGRATED HANDLES
Integrated handles help ensure a secure grip to lift and empty the mop bucket.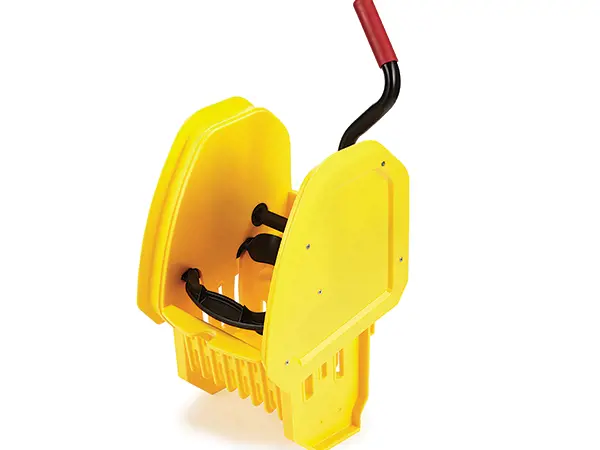 FREESTANDING WRINGER
Integrated wringer handle makes removing the wringer easy and convenient; wringer base is designed to stand upright to minimize bending over.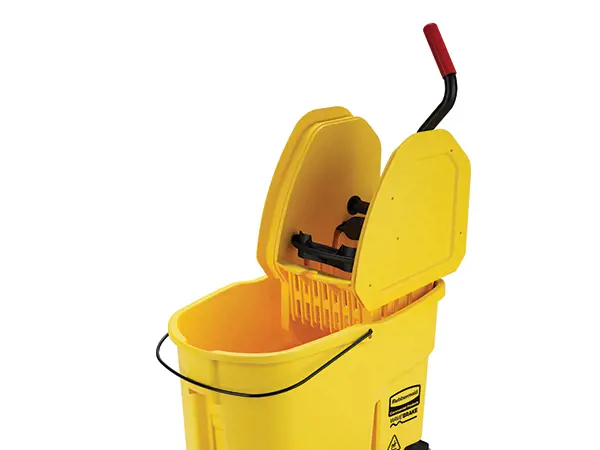 DURABLE WRINGER HANDLE
WaveBrake® wringer handle is made with steel and includes a comfort grip to help make wringing easy.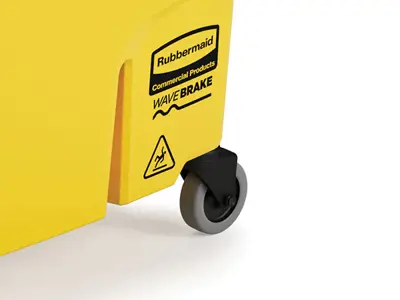 NON-MARKING CASTERS
Non-marking casters are gentle on floors, helping to keep them looking their best.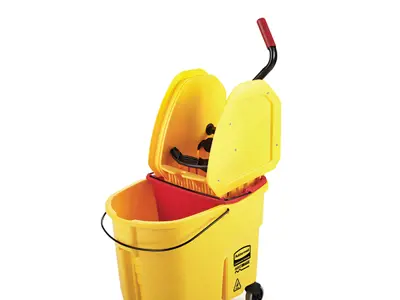 DIRTY WATER BUCKET
The WaveBrake® Dirty Water Bucket nests below the wringer to keep the dirty water separate to help reduce risk of cross-contamination.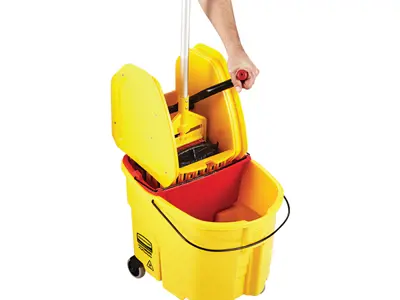 CONVENIENT MOP HOLDER
Flared wringer design allows mop handle to conveniently rest on the side of the wringer while not in use.
SPECIFICATIONS
U.S.
Metric
Product Length
22.63 in
57.48 cm
Product Width
13.25 in
33.66 cm
Product Height
32.25 in
81.92 cm
Product Weight
11.80 lb
5.35 kg
Upc
00086876188233
Case Pack Length
23.20 in
58.93 cm
Case Pack Width
13.50 in
34.29 cm
Case Pack Height
19.60 in
49.78 cm
Case Pack Weight
11.30 lb
5.13 kg
Case Pack Quantity
1
Ucc
00086876188233
Packaging Length
23.20 in
58.93 cm
Packaging Width
13.50 in
34.29 cm
Packaging Height
19.60 in
49.78 cm
Packaging Weight
11.30 lb
5.13 kg
Capacity
31 qt
Color
Yellow
Material Type
Plastic
Country of Origin
USA
---
We Also Recommend